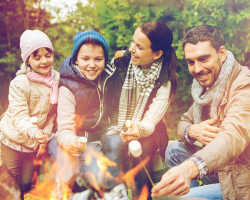 Half Day Family "Bubble" Adventure Days
Half Day Family 'Bubble' Adventure Day options include:
Archery
Embrace your inner Robin Hood/Lara Croft and learn how to wield a bow like a warrior! You can learn all the basic skills of stance, aiming, how to hold the bow and release the arrow. It's a great sport for all abilities!
Climbing
Scale the routes on our 10-metre wooden tower then abseil from the top! Learn how to conquer your personal fears and insecurities whilst developing the skills needed to climb like a Ninja!
Mountain Biking
Engage the whole family with lots of fun each honing their skills with guidance and tuition from our expert qualified Instructors. From beginner through to intermediate level we can help the whole family to progress through the green, blue and red trails at Barnett's Demesne. You can even earn an accredited GO-Mountain Biking certificate!
Orienteering
A chance for all aspiring detectives to put their skills to use, get out in the fresh air and explore Barnett's Demesne whilst racing against the clock to follow the clues and complete an orienteering or geo-caching challenge.
Canoeing
The perfect opportunity to explore the River Lagan together on open Canadian canoes while soaking up natures best from the tranquillity of your canoe.
Bushcraft
For all 'Bear-Thrills' fans, a perfect opportunity to learn new skills for survival in the outdoors from foraging to build your own shelter, starting a campfire with natural materials (no matches required), to cooking a meal outdoors. You can even carve your own eating utensils!
Remember all Family 'Bubble' Adventure Days will be designed completely bespoke to you and your family to make sure that everyone can experience a day that will never be forgotten!
For all activities, BAC will provide all the personal protection equipment (PPE) necessary for your chosen activities. Participants are welcome to bring a packed lunch or BAC can arrange your lunch for an additional cost. Transport for your family is also available at an additional cost if required.